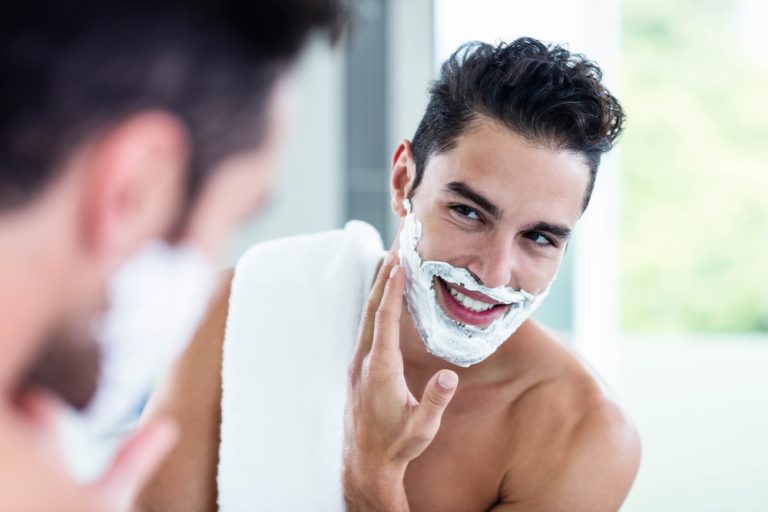 Men and women have many differences when it comes to their skin. However, one thing remains consistent between the two – a good skin care routine is necessary, no matter if you are male or female.
Conventionally, men tend to lean on the simpler side of things, using just the basics to get by. While there is nothing wrong with keeping a skin care routine uncomplicated, it's important to evaluate what you are using, rather than how many products you are using. Being in charge of your skin and keeping it healthy can be quick and easy, requiring minimal effort from an on-the-go guy.
The Ultimate Skin Care Guide for Men
There are five major components for men to consider in order to achieve great results with their skin.
Choosing a gentle cleanser that is suitable for your skin type (sensitive, normal, dry, oily, or combination) is our first recommendation for establishing a good skin care routine. Cleansing helps to remove dirt, impurities, and excess oil from the skin. Cleaners should be fragrance-free and mild enough that they do not irritate your skin. It is a great idea to check in with your dermatologist to have an evaluation – this will help you understand what your skin type is, and which cleanser is best for you.
Moisturizer is great for anti-aging and keeps skin hydrated. All skin types benefit from moisturizer, even those with oily or acne-prone skin. Just like with cleaners, it's important to choose the right moisturizer in conjunction with your skin type. The best time to moisturize is right after a bath or shower when your skin is still damp. The dampness will help lock in hydration under the skin. Moisturizing should be performed morning and night.
Shaving can be harsh on your skin, especially if you suffer from skin conditions such as eczema. Shaving, if not done caringly, can also lead to folliculitis. If a razor is not kept clean, it can breed bacteria. Try rinsing out your razor with soap and water after each use, and keep it dry in between shaving, and do not allow your razor to sit in standing water. Additionally, when using a razor, shave in the direction of your hairs' growth pattern. To help with razor bumps, try applying a warm compress prior to shaving, and a cool compress after shaving. If you still suffer from skin irritation after shaving, it's best to see your dermatologist for recommendations.
Exposure to the sun's harmful UV rays can cause premature aging, sunspots, wrinkles, and skin cancer. We recommend that you wear water-resistant and broad-spectrum sunscreen with an SPF of 30 or higher daily, wear protective clothing, avoid tanning beds, and try to seek shade during the hours of 10 a.m. and 2 p.m., since the sun's UV rays are strongest during that timeframe. Take our advice – protect your skin from the sun!
See Your Dermatologist Annually
It's important to have an experienced dermatologist or licensed medical professional conduct a yearly analysis to check all areas of your body, including your scalp, neck, back, hands, and feet, to make sure you don't have any suspicious growths, moles, and other dermatologic changes that may be cause for concern. Early identification and diagnosis of cancerous lesions increases the likelihood that treatment will be successful. To make a diagnosis, your dermatologist will perform a skin examination, and determine next steps. Depending on the size, location and severity of the growth, several treatment options are available to remove cancerous cells and preserve healthy skin.
Creating a skin care routine for men doesn't have to be time intensive or daunting. In fact, it can be easy. Having the right skin care plan in place also gives you the peace of mind that you are doing your part to keep yourself well.
If you have questions about the process or need to schedule an appointment for an annual skin exam with one of our board-certified dermatologists, contact us today. Don't delay in creating a skin care system that allows you to feel confident and safe in your skin!
Contact FLDSCC for All Your Skin Care Needs
Florida Dermatology and Skin Cancer Centers provides a full spectrum of dermatology and skin care services, and its team of physicians, APRNs, and PAs are experts in diagnosing and treating skin cancers with the latest technological options. Medical Director, Dr. K. Wade Foster, is fellowship-trained in Mohs surgery, the most effective technique for most types of skin cancers, with minimal scarring or risk.
For more information about services that Florida Dermatology and Skin Cancer Centers provides, or to make an appointment for a skin exam, visit www.fldscc.com or contact us at (855) FLD-SKIN.