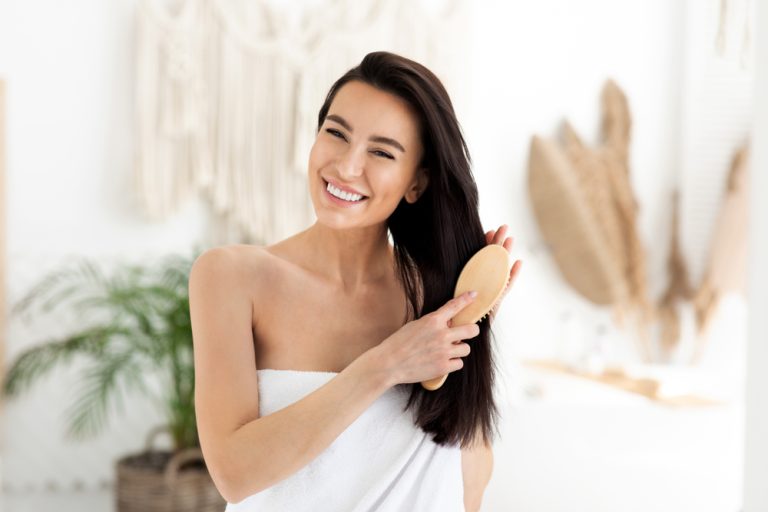 In Florida, spring brings temperatures that average between 70 and 90 degrees. During this time, rainfall starts to increase and so does the humidity! As we approach the spring season and spend more time outdoors, it's important to keep a few tips in mind for proper hair care and treatment.
Just like your skin, your hair can become damaged and stressed from too much exposure to harmful elements such as the sun and wind. Your hair and scalp need TLC just as much as any other area of your body.
Here are a few tips to help to protect your locks and keep your hair and scalp protected and looking its best.
Keep your hair clean. Your hair and scalp need to be cleaned at least one to two times per week. If you swim in a pool or other body of water, you should clean your scalp and hair immediately after. We recommend using a gentle shampoo – massaging every area of your scalp for 60 seconds prior to rinsing. Maintaining the cleanliness of your hair and scalp will help keep excess oil, skin cells, and dirt from building up. Follow up with a conditioner and rinse thoroughly before toweling your hair off.
Watch for dandruff. If you notice an itchy scalp, or skin flakes coming from your head or around your hairline, eyebrows, beard, or shoulders, you may have a type of condition known as dandruff. Dandruff is typically harmless, although we know it can leave you feeling self-conscious. To treat dandruff, you can try using over-the-counter shampoo treatments with antibacterial and antifungal properties such as zinc pyrithione, coal tar, selenium sulfide, or salicylic acid. You may need a prescription medicated shampoo, foam, gel, or spray from your dermatologist if your dandruff does not clear up on its own after you've tried products from the drugstore.
Brush & detangle your hair. Both men and women should brush and detangle their hair on a regular basis – at least once a day. No matter the length of the hair, brushing it can help with minimizing hair loss, improving the health of your scalp, and keeping your hair healthy and tangle-free. Brushing your hair stimulates circulation and blood flow to the scalp, which helps with keeping hair strong and nutrient-dense. Additionally, it's important to remove hair that has shed naturally with a brush. Did you know the average person loses between 50 and 100 hairs a day? Brushing encourages those hairs to collect in your hairbrush, rather than around your house.
Use the right products. Consider using leave-in conditioners especially if you use hot styling tools such as a hair dryer, curling iron, or straightener. Leave-in products can help your hair bounce back from damage caused by excessive heat or color treatment. Whether you have curly or straight hair, or a combination or the two, leave-in conditioners can also help with managing frizz, lack of moisture, or split ends. It's best to apply these products on wet hair, after washing and brushing.
Keep hairstyling simple. Try to avoid tight hairstyles that pull on the hair and scalp. An example of this would be a tight ponytail or braid that creates a lot of tension. Keeping hair like this consistently can promote hair loss and damage. Wearing fitted baseball caps too frequently can also put strain on hair follicles.
Protect your head from the sun. Guarding your hair and scalp from the sun is crucial. Skin cancer such as melanoma can develop on the scalp and can be extremely dangerous. To safeguard your scalp from the sun, consider wearing a wide-brimmed hat while outdoors, especially between the hours of 10 a.m. and 2 p.m. If you cannot seek shade, you can also find and use hair care products like leave-in conditioners and sprays with SPF in them to help with protection.
To conclude, we hope that by following a good hair care regimen, you will keep your hair and scalp happy and healthy. If you need help, or have questions about a hair or scalp concern, we are here for you! At Florida Dermatology and Skin Cancer Centers, we specialize in all skin and hair conditions. Our dermatology experts are highly trained and skilled in providing the best treatment options. Give us a call today to discuss your well-being – from head to toe!
Contact FLDSCC for All Your Skin Care Needs
Florida Dermatology and Skin Cancer Centers provides a full spectrum of dermatology and skin care services, and its team of physicians, APRNs, and PAs are experts in diagnosing and treating skin cancers with the latest technological options. Medical Director, Dr. K. Wade Foster, is fellowship-trained in Mohs surgery, the most effective technique for most types of skin cancers, with minimal scarring or risk.
For more information about services that Florida Dermatology and Skin Cancer Centers provides, or to make an appointment for a skin exam, visit www.fldscc.com or contact us at (855) FLD-SKIN.